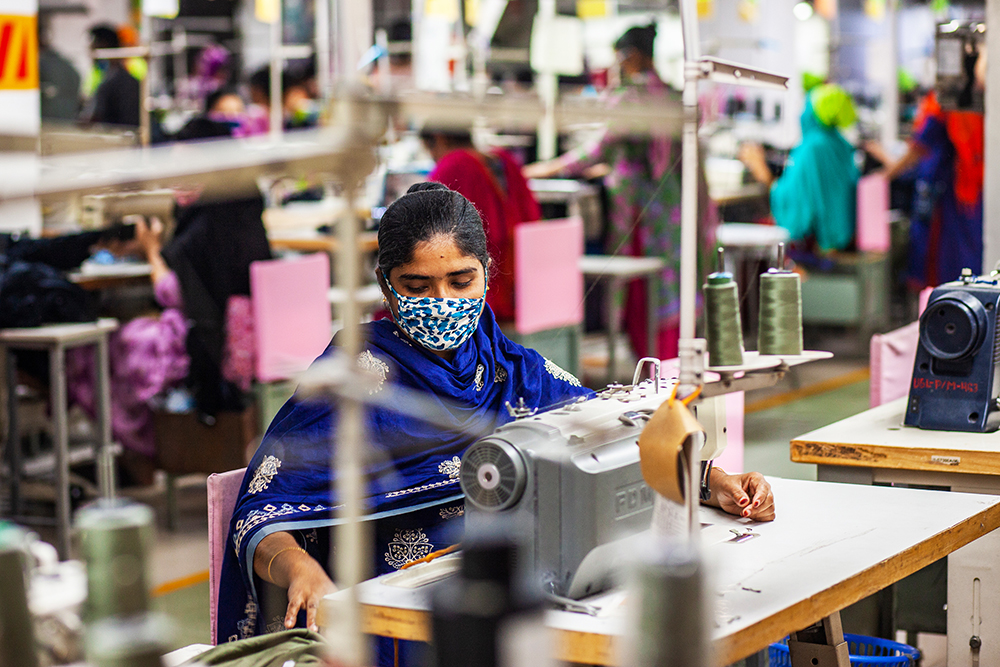 Working poverty is a reality worldwide. For many workers, a job does not provide a way out of poverty for their family. The COVID-19 pandemic has shown in stark relief the vulnerability of low-paid workers and made plain the consequences of economic vulnerability on human capital development. As this report highlights, this deepening of inequality presents an urgent threat to communities and economies.
A growing number of companies have expressly committed to achieving living wages in their supply chains, and the payment of a living wage is a membership requirement of a range of accountability organizations and initiatives in which businesses participate.
There is no universally agreed definition of a living wage as a concept and there is no universally accepted amount that defines such remuneration. But almost all living wage descriptions and definitions incorporate the idea that a living wage is a remuneration received for a standard workweek by a worker in a particular place sufficient to afford a decent standard of living for the worker and their dependents.¹
To this end, the United Nations Global Compact is encouraging companies to promote and provide a living wage as an essential aspect of decent work to ensure workers, families and communities can live in dignity. These commitments showcase the present impetus behind the agenda to improve wages in supply chains and are an important foundation to build on.
Improving wages for the lowest-paid workers in the supply chain has long been acknowledged as a pressing challenge for responsible multinational businesses to tackle. This report finds a rapid evolution in both commitment and action by business. A renewed clarity of focus on the reality of working poverty has seen a range of companies move beyond previous, circular debate, and proceed to concrete action. The past decade has seen a transformation in companies' approach to a living wage, and in particular, overcoming two crucial obstacles.
First, the lack of consensus around the definition of a living wage: as the report points out, there is broad consensus around what constitutes a living wage, namely a wage which enables workers and their families to meet their basic needs. This objective is also central to the ILO's call for an adequate minimum wage, further outlined in Convention no. 131 on Minimum Wage Fixing, which calls for minimum wage levels that take into account the needs of workers and their families as well as economic factors. Increasingly, credible information is publicly available on wages which would enable workers and their families to meet basic costs of living.²
Second, the complexity involved in addressing poverty wages in supply chains: wages are indeed determined by a range of factors, many of which are outside the control of any single enterprise. But complexity is not always complication, and recognition of complexity must not result in paralysis. The initial steps laid out here are achievable in any business, and many of the fundamental questions are straightforward, namely: do the prices my business pays to a supplier make it impossible for that supplier to pay a living wage to their employees? And beyond the price paid, what are the other factors to be considered in procurement decisions? Are my procurement colleagues aware that decisions they make can have a direct effect on the well-being of workers in supply chains?
There are expanding opportunities for companies to take meaningful action. Drawing from the lessons of activities to promote living wages in garment and agriculture supply chains, a number of tools and resources are now available to businesses to diagnose wage gaps, engage suppliers, and support activities to improve pay systems and foster social dialogue. Pioneering initiatives that have made these possible include the Action, Collaboration, Transformation (ACT) initiative, Fair Labor Association, Fair Wage Network, Fair Wear Foundation and IDH (the Sustainable Trade Initiative). This guidance aims to aggregate and complement these resources.
This report is not a blueprint for living wages in global supply chains. There are marked differences in the dynamics and structures between value chains and between labour markets. Rather, this report aims to draw out a strategic logic to support companies' decision making, to devise their own realistic, integrated strategy on tackling low pay in supply chains and chart their way forward with a plan of concrete implementation actions that enable their commitments.
Change starts within the business, and firms seeking to promote decent wages in supply chains need to have their own house in order. Companies can leverage their own experience of achieving their commitment of paying all their direct employees — regardless of employment status — a living wage. Efforts on both fronts, ensuring a living wage for your own workforce and efforts to achieve a living wage for all workers in your supply chain, can go hand-in-hand. Improving wages in supply chains starts by identifying which levers are within the control of the business and making initial efforts on these. This will include:
Commitment to achieving improved wages in the supply chain for all workers as part of the companies' business strategy: this will require a strong mandate from senior leadership.
Collecting data to assess the gap between current basic pay and living wage in supplier workplaces.
Developing an implementation plan with clear objectives, based on assessment of the scale of the gap between current wages and living wage, and an assessment of priority supplier markets to start working with (such as strategic suppliers in lowest-wage regions, or suppliers who are best positioned to achieve a living wage, creating demonstration effect for future engagement with other suppliers).
Consulting and collaborating with internal stakeholders (including buyers, legal, accounts, quality control) and external stakeholders, including workers' representative organizations.
Engaging and supporting suppliers.
Adjusting purchasing practices and unit prices paid to enable payment of fair wages by suppliers.
Measuring and monitoring progress using a mix of quantitative and progress achievement metrics.
Market-based compensation
Most employers use a salary structure or pay scale to determine an employee's compensation. The type of structure companies use depends on the industry, business size, location and employee classification, as well as collective agreements and local regulation. Market-based compensation approaches — where pay levels are based on market rates for similar jobs — are no guarantee that the paid wage level is above a living wage benchmark. In a low-wage labour market, a market-based wage rate (going rate) is likely below the living wage benchmark.
Fundamental here is the integration of living wage considerations into commercial practices. Concretely this means removing the downward pressure on wages that may be exerted by pricing and other purchasing practices. Wages cannot be the adjustment variable of commercial terms between buyer and supplier.
Beyond individual company efforts, this report identifies the need for collaboration. There is an emerging range of opportunities for businesses to engage in sector-wide collaboration with suppliers, trade unions, governments, NGOs and employers' organizations. Progress requires collective work to influence change at scale, across entire industries. Collaborative solutions are required to aggregate buying power, to remove blockers to meaningful social dialogue and collectively negotiated wages, and to sustain the conditions for continued improvement of wages in global supply chains.
Key among these conditions is the existence of effective freedom of association and collective bargaining alongside transparent mechanisms for adequate national minimum wage levels set and revised by tripartite negotiation. The importance of adopting a multi-stakeholder approach needs to be underlined as all stakeholders play a relevant role in enabling the achievement of a living wage for all workers.
Working poverty in supply chains is at odds not only with companies' values and those of their employees, but also with the potential to secure resilient supply chains and to grow consumer markets in emerging and developing economies. Wage income is pivotal to the achievement of Sustainable Development Goals (SDGs) 1 and 8 — No Poverty and Decent Work and Economic Growth — alongside a broader range of sustainable development objectives, including gender equality, the elimination of child labour and safe working conditions. Further, as more companies are publicly committing to achieving living wages in supply chains, and investors and stakeholders increasingly pay attention to the issue, there is a need to safeguard both intangible and tangible brand assets.
Advancing this agenda further requires real commitment from companies to assume their responsibilities and deploy their influence within value chains to ensure workers everywhere can realistically expect that their hard work will be rewarded sufficiently to support themselves and their families to a standard that is universally considered decent. This is, after all, one of their fundamental human rights.